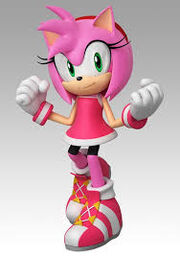 Amy Rose (who has a huge crush on Sonic) the hedgehog is known for her hammer.
Her hammer is red and yellow and is very big compared to her. She wears a short pink dress and a red head band. Amy is a helper in the freedom fighters group. She can swing her hammer to knock down or squish any enemy. Her nickname is Amy the rascale.
Amy was first appered in Sonic CD (1993). She is currently in Sonic Boom (2014).